Event Details
Eggapalooza is a FREE Easter Egg Hunt with tons of great prizes and will even have some fun surprises. Eggapalooza is a blast every year, so we know that your kids will love it.

The event is organized by the South Point Volunteer Fire Department and Cross Community Church. The third annual Eggapalooza is completely free and open to children ages one through twelve years old.

Directions
Eggapalooza will be at the Old South Point High School at 302 High Street, South Point, OH 45680.
Click here to get directions in google maps.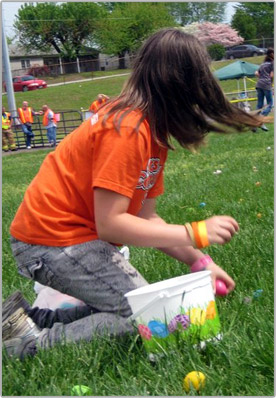 Pre-Registration is Closed.
You can no longer pre-register for Eggapalooza. However, your kids can still come enjoy Eggapalooza by registering at the event. Registration begins at 11 a.m.


South Point Volunteer Fire Department
The department serves an area of approximately 6 square miles and a population of 5000 people.

Cross Community Church
Cross Community Church (C3) is not a "church" like most people think of. It's a group of individuals with various backgrounds, occupations, and personalities. We gather on Sunday to seek and worship God. Some are close to Him, some want to know Him better, and others are just checking things out. Anyone is welcome here, no matter what.

Instead of focusing on what people wear, how they look, or how much money they make we focus on who God is and how we can know Him better. The atmosphere is casual, the messages are meaningful, and the people are friendly. Whether you are just curious about Christianity, or have been in church all your life, at C3 you will Find that you can relate to God in a meaningful way, and experience authentic relationships with people who care about you.
Does life have you puzzled? Find out how all the pieces of your life fit together on Easter Sunday at C3 at 9:00 am, 10:15 am, and 11:30 am.